Nacelle Systems & Aerostructures
At Middle River Aerostructure Systems (MRAS), located near Baltimore, Maryland, ST Engineering designs and manufactures engine nacelle systems, as well as complex aerostructures for commercial and military aircraft.
Capitalizing on our engineering, design & manufacturing capability as a nacelle OEM has also enabled us to extend our nacelle repair and exchange services into the North American market through MRAS.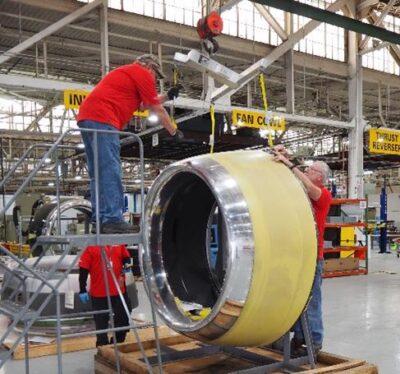 From initial concept development through fielded product support, we offer a full range of engineering solutions for nacelles and aerostructures – applying its extensive experience in integration, design, testing, flight test support and certification. In addition to design, development and manufacturing capabilities, we also provide technical support, spares and MRO services.
Our nacelle component experience includes thrust reversers, fan cowl and inlet structures and engine build-up (EBU).
The team at our nacelle facility in Middle River possesses in-depth knowledge of state-of-the-art design and analysis tools to develop weight- and cost-optimized designs that meet customers' challenging requirements, with such specialties as bird strike and lightning strike test and analysis correlation, as well as the definition and validation of anti-icing and fire protection.
With our expertise in both metallic and composite nacelle components, we are able to find optimum solutions that maximize all requirements – not just physical product performance.
As an integral part of MRAS' engineering organization, our Lean Lab supports the development and certification of new designs through the building and testing of subcomponents and structures. The laboratory also can build its own tooling to support such testing – including at subcomponent level and reduced scale – with full measurement instrumentation.
As part of MRAS' "under one roof" capability, our assembly group works in close coordination with the company's designers – ensuring optimum producibility for structures and parts.
We apply the latest digital technologies in laser and dimensional inspection, as well as in reverse engineering.
Our 1-million sq. ft. facility includes 165,000 sq. ft. of high-bay and low-bay assembly areas.
In addition to our design, development and manufacturing capabilities, MRAS also provides technical support, spares and MRO services for its products.
MRO Services
MRAS is an FAA/EASA Part 145 Repair Station for the maintenance, repair and overhaul (MRO) of nacelle systems on the following engine types:
CFM International CFM56-5B
CFM International CFM56-7B
International Aero Engines V2500